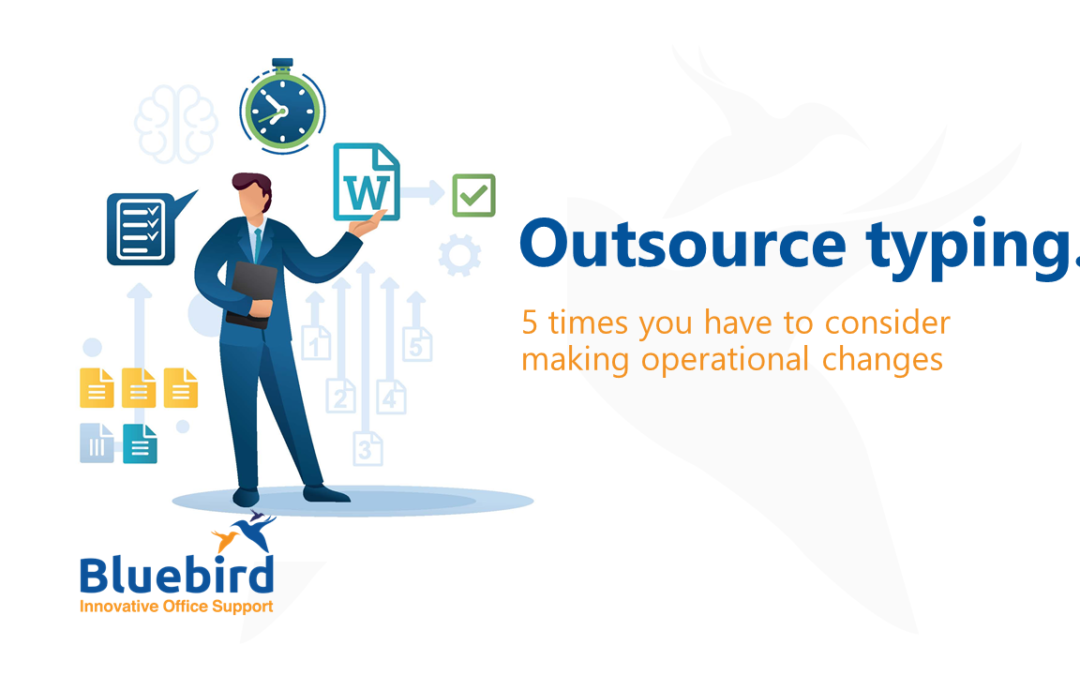 When is it a good time to outsource your typing?. 
Typing is necessary – there's just no getting away from it.  Whether it's responding to an email, editing a document or writing a file note, you either do it yourself or you pay someone to do it for you. 
Outsourcing can be a word that causes anxiety to some because it hints at structural change, redundancy and cost cutting for survival.  But we can flip that around to positive action and instead rename that word to 'delegating'. 
From our clients' experiences, here's the top reasons why they chose to send their typing outside of their business.
1 Recruiting a new fee-earner
Recruiting new staff in your business is, hopefully, a sign of growth.  You will want your new hire to be as productive as possible, to feel supported, and start making money for your business as soon as possible. 
If you don't have capacity for your support staff to cope with the extra work to be generated, then it can be a great opportunity to offer external resources to help your new team member work to their strengths. 
New staff means introducing them to new ways of working – your way of working – so introducing a remote support service won't cause too much change-related-stress.
2 Staff sickness and holiday absence 
Organising a holiday rota and being fair to staff so they can have time off during school holidays can be a managerial nightmare.  Throw in sudden sickness absence, and stress levels in the team increase. 
Having a flexible resource ready to go means you always have a back-up plan and can be assured that work gets done and costs are kept to a minimum.
3 Keeping your business continuity plan updated
Just as above, those unexpected turn of events can throw normal operations into disarray.  Being prepared doesn't cost much in money and can save you tons of time and energy in the long run. 
Believe it or not, hooking up dictation technology and sharing some templates is really easy.  You'll get a lot of boxes ticked for your compliance because you have your back-up plan.
4 An unexpected large project
 For those occasional times when a piece of work needs more time than your support team have capacity for.  Here are a few examples of how we have helped our clients.
An old head lease document, poor quality PDF that can't be converted to text, needs to be re-typed. It takes 16 hours of typing time. 
A 1-hour Zoom video meeting can take 8 hours to transcribe.
Police interview tapes are needed in a hurry.  Four hours of interviews could take 30 hours to transcribe.
5 Sick of doing it yourself
New business start-ups rightly do almost everything themselves.  Then comes the time when workload increases and a dawning realisation that time is better spent elsewhere.  Savvy business owners will have figured out where systems can be automated, templates can be created and repetitive work is treated like a process. 
But there are times when a spanner is thrown into the works.  Broken documents, long boring typing jobs or data input and struggles with PDF conversions, are just a few examples. 
None of the above circumstances require redundancy or a sharp reduction in staff numbers.  In most cases, restructuring workflow presents the opportunity to utilise employed staff to produce more and work to their strengths.
You might have your own specific requirements that you need help with.  If so, please get in touch  as I'm sure we can help you. 
The work is completed accurately, with a choice of turnaround times and over extended office hours.
They simply get the job done and they work around the clock too. We've saved salary and temp costs in our business by outsourcing the typing.
They are the prime outfit for outsourced document
production.
Robin Torr
30. May, 2022.
This was the first time I've used… This was the first time I've used Bluebird but it won't be the last. The whole process from start to finish was painless. The PA's appointed to undertake my work new the case management system I worked on, which made it so much easier when giving instructions (as I didn't need to break it down into baby steps). The accuracy of the typing was first rate, as was the speed of turnaround. First class service.
Dorigen Sykes
25. April, 2022.
Excellent service from Bluebird We have recently engaged Bluebird for a document production task. We found them easy to work with, transparent, efficient and friendly. Based upon our experience we would definitely recommend their service.
We used Bluebird for the first time to transcribe an audio meeting We used Bluebird for the first time to transcribe a lengthy professionals meeting - they were detailed, cost-effective, and could meet the quick turnaround required for these complex care proceedings. We would certainly recommend using Bluebird. - James G, works for a Local Authority.
Excellent Court bundle and typing… Excellent Court bundle and typing service with 100% accuracy and super efficient with turnaround within a couple of hours! really impressed for my fast paced legal practice.
matthew pecoraro
20. April, 2022.
Exceptional experience on multiple… Exceptional experience on multiple occasions. I wouldn't look anywhere else for transcription services. Jayne and co are experts.
Sasha Nerozina
10. February, 2022.
Absolutely brilliant Absolutely brilliant! Professional, excellent in detail, precise, fast and cost effective. I am a litigant in person responsible for producing the bundle for the Tribunal. I have no idea how I could have dealt with this huge task without Bluebird. Jayne and Julie were supportive and helpful throughout. Thank you very very much!
Catherine Lockett
21. January, 2022.
Your investment in Bluebird Support Services' time and expertise will pay you dividends... I highly recommend! I have been working with Leanne from Jayne's team whilst she has re-formatted at least a dozen complex template documents for me so far, and there are more to do as well. My document nightmare has turned into an administration dream – gone are the tedious and time-consuming checks that I had to do. I can now do in a few minutes what would have taken me hours to do previously, with far more confidence in the end result for my clients. If you use templates or any legal documentation in your business, I can't encourage you strongly enough to pass them by a member of Jayne's team. Your relatively small investment in their time and expertise will definitely pay you dividends. I would highly recommend!
Sara Barrie & Associates
27. August, 2021.
Bluebird - my go to support service From audio transcription of interviews, setting up templates for better self proficiency to expertise with social media support and scheduling, Jayne and the team at Bluebird are my go to support service. Experts, encouragers, supporters, accurate, on time and within budget. What's not to like? Definitely recommend Bluebird.
Couldn't be happier... Have recently started using Bluebird after years of reluctance to outsource transcription. Really delighted with the quality, accuracy and speed of their work. We fully intend to increase our use of Bluebird's services. Ian McKenna, O'Donnell McKenna, Solicitors
Charlie1
5. February, 2021.
Bluebird - top at what they do Have worked with Bluebird for years. I have absolute confidence in their reliability, quality and speed. they are also excellent at making suggestions that improve the quality of our documents. I wouldn't work any other organisation.